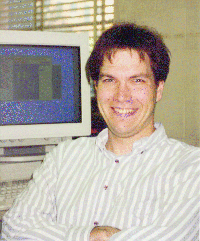 Keith A. Baggerly

Assistant Professor of Statistics

Ph. D. (1994) Rice University

Nonparametric Likelihoods, Experimental Design, Information Theory, Monte Carlo methods, Resampling.
---
My primary research interests are in the area of computationally intensive statistical methods, which allow for more accurate inferences at the cost of greater amounts of increasingly cheap computer time. Prior to joining the faculty at Rice, I was a member of the Statistics Group. of the Los Alamos National Laboratory.
---
Section on Statistical Graphics
Student Paper Competition Rules
---
Research:
Some Internet Accessible Publications
Tips for Stat Grad Students at Rice
---
Course Pages:
Stat 310:Probability and Statistics (Fall 99)
---
back to Department of Statistics Home Page
This page last maintained by Keith A. Baggerly on 1/18/00
Problems or suggestions to kabagg@stat.rice.edu
Contact the Department of Statistics via stat@stat.rice.edu