FINAL PROGRAM SCHEDULE
AND
INVITATION TO REGISTER
(May 1 Early Registration Deadline)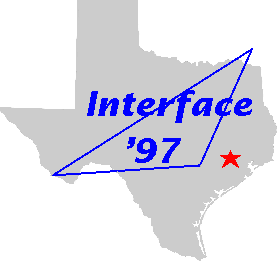 29TH SYMPOSIUM ON THE INTERFACE:
COMPUTING SCIENCE AND STATISTICS
"Mining and Modeling Massive Data Sets
In Science, Engineering, and Business"
Subthemes in Environmental Statistics and Graphics

May 14-17, 1997
Holiday Inn - Texas Medical Center
Houston, Texas

Sponsored by:
The Interface Foundation of North America
Co-hosted by:
The University of Texas M.D. Anderson Cancer Center
The University of Texas Health Science Center at Houston School of Public Health
W.M. Keck Center for Computational Biology

Cooperating Institutions:
ASA, IMS, IASC, SIAM, INFORMS, ENAR/WNAR .
Industrial Sponsors:
The SAS Institute, Visual Numerics Inc., Silicon Graphics Inc..
Grant Support from:
National Security Agency, Environmental Protection Agency, National Science Foundation.
---
FULL PRINTED PROGRAM (postscript, 366K)

Index of Authors/Presenters

---
You are visitor #
since 11:00 A.M. CST 1/17/97.
---
---
This page last maintained on 4/4/97
Problems or suggestions to webmaster@stat.rice.edu
Contact Interface '97 via interface97@stat.rice.edu