---

Call for papers
Researchers interested in presenting a contribution as a poster in the event "Instituto Panamericano de Estudios Avanzados en Probabilidad y Estadística" to be held from April 24 - Mayo 8, 2010 and from May 30 - June 5, 2010 at CIMAT, Guanajuato, Gto., Mexico
Posters will be presented at a Special Poster Session.
The deadline for abstract submission is
April 1, 2010
. There is a limit of 40 posters (due to space constraints). Abstracts should be sent to
rosa@cimat.mx
or
roxydh@gmail.com
Accepted abstracts will be notified no later than
April 12, 2010
."
Please include your, ad your co-authors, name and affiliation, title and abstract, in plain text, preferably in the main body of the email.

&nbsp&nbsp&nbsp&nbsp&nbsp&nbsp&nbsp&nbsp&nbsp&nbsp&nbsp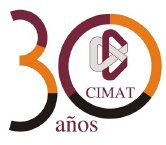 DOWNLOAD LECTURES
&nbsp&nbsp&nbsp PARTICIPANTS
&nbsp&nbsp &nbsp PHOTOS &nbsp